27 Aug

Mid-Year 2013 U.S. Carrier Ethernet LEADERBOARD
Cable MSOs and regional Competitive Providers show strongest gains.
BOSTON, MA, AUGUST 20, 2013 — Mid-Year 2013 results for Vertical Systems Group's U.S. Ethernet Leaderboard are as follows (in rank order based on port share): AT&T, Verizon, tw telecom,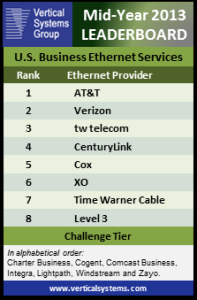 CenturyLink, Cox, XO, Time Warner Cable, and Level 3. Port shares for mid-2013 were calculated using Vertical's base of enterprise installations, plus direct input and other data from surveys of Ethernet Service Providers. To qualify for the Leaderboard, a provider must have four percent (4%) or more of billable retail port installations.
The following seven Ethernet providers have the next highest mid-2013 port shares and have achieved a position in the Challenge tier (in alphabetical order): Charter Business, Cogent, Comcast Business, Integra, Lightpath (formerly Optimum Lightpath), Windstream, and Zayo Group (includes AboveNet and other acquisitions). To qualify for the Challenge tier, a provider must have 1% or more of billable retail port installations.
"During this reporting period, the Cable MSOs showed very strong market penetration. For the first time, the Cable MSO segment had more new Ethernet port installations than the Incumbent Carrier segment," said Rick Malone, principal at Vertical Systems Group. "Competition was heaviest in the mid and small business sectors served by MSOs and regional CLECs, resulting in very favorable pricing for customers."
Key results of Vertical's Mid-2013 Carrier Ethernet services share analysis:
Leaderboard changes for the period include XO moving up to sixth position, Time Warner Cable moving up to rank seventh, and Level 3 dipping to eighth position.

The eight Leaderboard companies as a group lost more than 2% market share to smaller competitors during the first half of the year.

Cable MSOs now comprise 20% of the total U.S. Ethernet port base. The Incumbent Carrier segment remains the largest, with 47% of total U.S. Ethernet ports, followed by the Competitive Provider segment (33% of ports).

A larger percent of retail Ethernet ports are being sold using wholesale and other channel partners.

Ethernet providers cited an uptick in demand for connectivity to Private Clouds using Ethernet Private Lines (EPLs) and Ethernet Virtual Private Lines (EVPLs).

The fastest growing offerings during the period were Ethernet access to IP/MPLS services and Cloud connectivity.
The Market Player tier includes all other providers selling Ethernet services in the U.S. Companies in the Market Player tier include the following providers (in alphabetical order): Alpheus Communications, American Telesis, Bright House Networks, BT Global Services, Canby, Cbeyond, Cincinnati Bell, Consolidated Communications, Earthlink Business, Expedient, FairPoint Communications, FiberLight, Frontier, IP Networks, Lightower (includes Sidera Networks), LS Networks, Lumos Networks, Masergy, Megapath, NTT America, Orange Business, Reliance Globalcom, Sprint, SuddenLink, Tata, US Signal, Virtela and others.
Detailed statistics for the Mid-Year 2013 Ethernet market share results are available now exclusively through subscription to Vertical Systems Group's ENS @Ethernet Market Analysis Program.