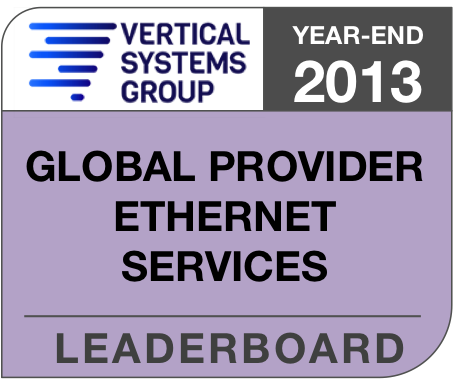 03 Mar

2013 Global Provider Ethernet LEADERBOARD
Orange Business regains top position from BT Global Services
BOSTON, MA, MARCH 3, 2014 –  The following seven companies have achieved a position on Vertical Systems Group's 2013 Global Provider Ethernet Leaderboard (in rank order based on port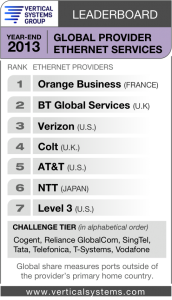 share): Orange Business (France), BT Global Services (U.K.), Verizon (U.S.), Colt (U.K.), AT&T (U.S.), NTT (Japan) and Level 3 (U.S.). Vertical's Global Provider Leaderboard is the industry's benchmark for measuring multinational Ethernet network market presence. Global Providers ranked on the Leaderboard hold four percent (4%) or more of retail business Ethernet installations based on billable ports at sites outside of their respective home countries.
"Orange has regained the number one position from BT based on year-end 2013 Global Provider Ethernet LEADERBOARD port share results," said Rick Malone, principal at Vertical Systems Group. "The share margin between the two is razor thin as both companies push Ethernet into their extensive bases of global IP VPN customers. Orange is now offering Ethernet in 120 countries."
Other Global Providers offering Ethernet services outside of their home countries have port shares that are below the Leaderboard threshold. These companies are segmented by share into two tiers: the Challenge tier and the Market Player tier.
The Challenge tier companies are the following (Note – in alphabetical order): Cogent (U.S.), Reliance Globalcom (India), SingTel (Singapore), Tata Communications (India), Telefonica Worldwide (Spain), T-Systems (Germany) and Vodafone (U.K.).
The Market Player tier encompasses all other providers selling retail Ethernet services outside their home countries. Providers in the Market Player tier include the following companies (Note – in alphabetical order): Bell Canada (Canada), Bezeq (Israel), CAT Telecom (Thailand), CenturyLink (U.S.), China Telecom (China), China Unicom (China), Chunghwa Telecom (Taiwan), Easynet Global Services (U.K.), Eircom (Ireland), Embratel (Brazil), euNetworks (U.K.), Exponential-e (U.K.), Globe (Phillipines), GlobeNet (Brazil), GTS (Poland), GTT (U.S.), Hutchinson Global (Hong Kong), Indosat (Indonesia), Interoute (U.K.), KDDI (Japan), Korea Telecom (Korea), KPN International (Netherlands), Masergy (U.S.), PCCW Global (Hong Kong), PLDT (Phillipines), Rogers (Canada), Rostelecom (Russia), Softbank Telecom (Japan), Sparkle (Italy), StarHub (Singapore), Swisscom (Switzerland), Symphony (Thailand), TDC (Denmark), Telecom Italia (Italy), Telecom New Zealand (New Zealand), Telekom Malaysia (Malaysia), Telenor (Norway), TeliaSonera (Sweden), Telkom Indonesia (Indonesia), Telkom South Africa (South Africa), TelMex (Mexico), Telstra (Australia), Vector (New Zealand), Virgin Media Business (U.K.), XO (U.S.), Zayo Group (U.S.), and other providers.
Detailed Global Provider and U.S. Ethernet market share results are available exclusively through subscription to Vertical Systems Group's ENS @Ethernet Market Analysis Program.