03 Apr

U.S. Business Fiber Gap Narrows in 2013
Fiber penetration reaches 39.3% of U.S. commercial buildings with 20+ employees
BOSTON, MA, APRIL 3, 2014  –  The U.S. Fiber Gap continued to narrow in 2013 with the penetration of business fiber facilities expanding to 39.3% of commercial buildings with twenty or more employees, according to latest research from Vertical Systems Group. The remaining 60.7% of buildings are in the Fiber Gap with no accessibility to fiber.
Fiber is the optimal wireline access technology for delivery of higher speed network services, including Carrier Ethernet and IP/MPLS VPNs, as well for Cloud and Internet connectivity, and mobile backhaul.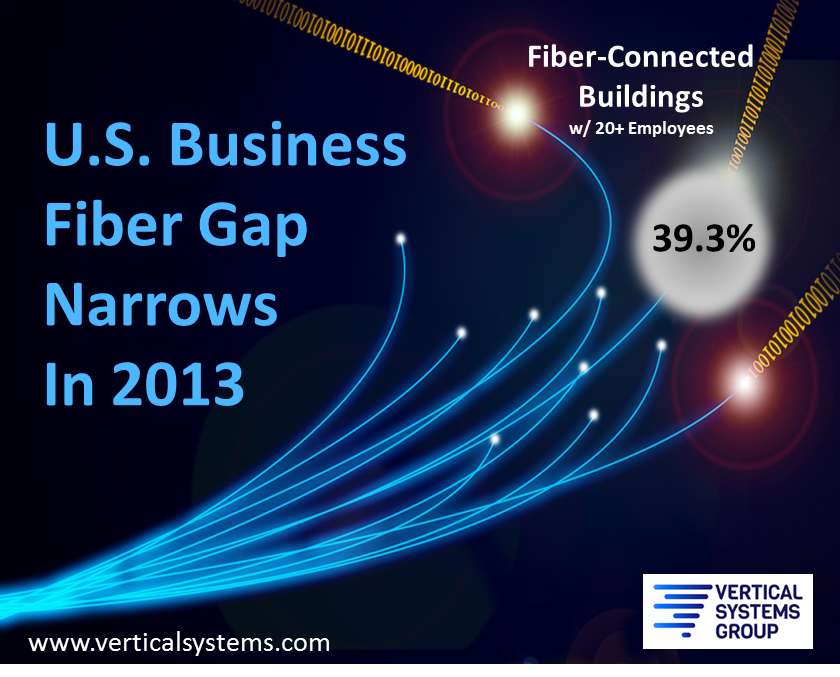 "During the past year, network operators narrowed the business fiber gap through construction and acquisitions. The majority of new fiber deployments were focused on connecting medium and smaller buildings in the metro areas surrounding major cities across the U.S.," said Rosemary Cochran, principal at Vertical Systems Group. "Broader accessibility to on-net fiber has started to shake up the services markets. Fiber-based providers and Cable MSOs are capitalizing on the reach and cost advantages of their footprints juxtaposed to legacy infrastructures. Customers are reaping the benefits of more service options, more competitive pricing, and faster service installations."
Comprehensive analysis of U.S. fiber penetration statistics is available exclusively through the @Fiber research track of Vertical Systems Group's ENS (Emerging Networks Service). Research content covers the period 2004 through 2013, and includes quantification by customer segment (Large Enterprise and SMB) and four building sizes (20-50 employees, 51-100 employees, 101-250 employees, >250 employees). Contact us for subscription information and pricing.