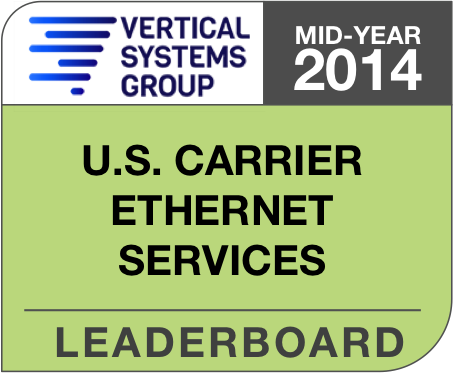 20 Aug

Mid-Year 2014 U.S. Carrier Ethernet LEADERBOARD
Strong pace of new port installations and expanding Ethernet provider choices for customers
BOSTON, MA, AUGUST 20, 2014 – Vertical Systems Group's U.S. Carrier Ethernet LEADERBOARD results for mid-year 2014 are as follows (in rank order based on retail ports): AT&T,
Verizon, tw telecom, CenturyLink, Time Warner Cable, Comcast, Cox, Level 3 and XO. Port shares were calculated using the base of enterprise installations of Ethernet services, plus input from Vertical Systems Group's independent surveys of Ethernet service providers. The LEADERBOARD threshold is four percent (4%) or more of billable port installations.
The next, or Challenge Tier, includes all providers with between 1% and 4% share of the U.S. retail Ethernet market. The following seven companies attained a position in the mid-2014 Challenge Tier (in alphabetical order): Charter, Cogent, Integra, Lightpath, MegaPath, Windstream and Zayo.
"Now beyond the hockey stick ramp stage, the U.S. Ethernet services market has entered a very healthy growth period. During the first half of 2014, more new Ethernet customer ports were installed than during any previous corresponding period," said Rick Malone, principal at Vertical Systems Group. "Customers shopping for Ethernet services have a broader choice of companies with substantial Ethernet assets, including the sixteen providers on the mid-2014 LEADERBOARD and Challenge Tier rosters."
A shakeup of the U.S. LEADERBOARD may be ahead, pending the outcome of merger activity for four of the top nine providers. In February, Comcast announced its intent to acquire Time Warner Cable. In June, Level 3 announced an agreement to acquire tw telecom.
Companies with Ethernet port share below 1% are in the Market Player tier. The Market Player tier includes the following providers selling retail Ethernet services in the U.S. market (in alphabetical order): Alpheus Communications, American Telesis, Bright House Networks, BT Global Services, Cincinnati Bell, Consolidated Communications, Earthlink Business, Expedient, FairPoint Communications, FiberLight, Fibertech, Frontier, Hawaiian Telecom, Lightower, LS Networks, Lumos Networks, Masergy, NTT America, Orange Business, RCN Business, Reliance Globalcom, Sprint, SuddenLink, Tata, TDS Telecom, TelePacific, US Signal, WOW!Business and other companies.
Detailed mid-2014 U.S. Ethernet services market share results are available now exclusively through Vertical Systems Group's ENS (Emerging Networks Service) Research Programs.